The 9 Best Family Cars For New Dads
Becoming a dad is a huge milestone in a man's life. It brings a lot of excitement and changes to your life, including when it comes to car purchasing.
Here are our 2021 picks for some of the most compelling options for new dads.
9. Subaru Outback
The Subaru Outback is ideal for any adventurous dad. This vehicle will get you to any destination comfortably and on time if you love good road trips. It is ready for all kinds of environments and offers a ton of space to pack all that you and your family need for the trip.
Its standard all-wheel-drive and cool features make it a good family SUV to ride around Flint, Michigan. Besides, it has great features such as heated seats, active torque vectoring, and eyesight driver assist technology to ensure you enjoy every moment on the road with your family.
8. Audi Q5
Love the city life? This mid-size luxury SUV will feel right for a home in any city in Michigan. It has a roomy cabin, giving you the comfort you need to enjoy your ride. You will also enjoy plenty of cool technology, including the head-up display, personal route assistance, 12.3-inch display instrument cluster, and multi-media interface touch control terminal. No matter where you are headed, the Audi Q5 will ensure you arrive in style.
7. Ford F-150
Any new dad, you would probably love to travel with your family to different places, and it is important to ensure you have a car that you can rely on. The F-150 can handle long distances comfortably and has a huge cabin to accommodate your family. It can handle rough roads very well, and its commanding forward visibility will ensure you stay focused throughout the journey.
Its rugged cargo bed is another thing you will love. It is spacious enough to accommodate all you and your family will need for any trip. So if you are outdoorsy and would love to spend more time outside with your family, then the Ford F-150 is worth your hard-earned money.
6. Chrysler Pacifica
As a new dad, the idea of taking care of your kids will be foremost in your mind every day. How will you move around comfortably? How do you ensure they get from one point to another on time? How do you get to enjoy your family time while driving? These are some of the questions likely to give you sleepless nights when contemplating buying a new car.
The Chrysler Pacifica is one of the cars that is designed to support parenting. Offering seating for seven and an upscale take on the minivan formula, it is the perfect cruiser for a family. The leather-trimmed seats further enhance its opulence to offer the most remarkable driving experience.
5. Toyota Tacoma
If you love trucks and are looking for a ready-for-all-weather vehicle, you will love the Toyota Tacoma. It is designed for all terrains and comes with a powerful engine that ensures you go to all places you would love to be with your family comfortably. Whether driving through the city or on rough roads, you will enjoy a smooth ride.
Its cabin is spacious and uniquely designed to keep occupants comfortable throughout the journey. Besides, it is also fuel-efficient, meaning you can count on it even when on a tight budget, and it has a large cargo bed. It is big enough to fit all your family's needs for a great trip.
4. BMW 7 Series
The BMW 7 Series takes luxury a notch higher and is perfect for dads who love cars that come loaded with great features. This full-size sedan features a surround-view camera, 12.3-inch digital instrument cluster, power windows front, an anti-lock braking system, and an intelligent personal assistant.
If you are a tech-savvy dad, every moment behind the wheel will be a great moment.
3. Volkswagen Golf GTI
The Golf GTI stands out as a perfect vehicle for anyone who likes cars that offer a perfect balance of everything. Anything you can think of in a good car, the Golf GTI will check every box. The peppy turbocharged engine propels you at the speed that gives you pride on the road. The roomy interior ensures you can bring enough items for any destination, and the stylish seats make it feel more luxurious. It's a great car to mark your new journey as a dad.
2. Volvo XC40
Volvo for years has been hailed for manufacturing the safest vehicles on the road, and the Volvo XC40 isn't an exception. It comes with cool safety features such as anti-lock brakes, knee air bags, stability control, and anti-whiplash that enhance the safety of its occupants.
Driving the XC40 gives you peace of mind knowing you and your kids will be safe if the unforeseen happens. Its useful storage cubbies and sporty driving characteristics further make it a suitable car for a family.
1. Chevrolet Blazer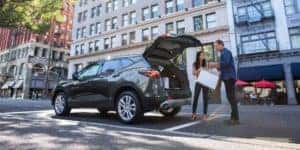 What do most dads like in cars? Luxury features, resale value, security features, cargo space, you name it — the Chevrolet Blazer offers this and more. It can handle any terrain comfortably and comes with a range of engine options to provide you the best driving experience.
It looks good driving in the city and will also offer a smooth ride outside the city. We love this mid-size SUV for its luxurious interior, fuel economy, excellent performance, and smooth ride. We invite you to buy one to experience the same. Ready to own one?
Looking for a Great Deal?
As a new dad, you need a car that will support your new chapter in life. You can always find the best car at Applegate Chevrolet. There are many great options to consider (both new and used), and our car experts are always ready to guide you every step of the way until you find a car that fits you. For more information about owning a great vehicle in Flint, Michigan, contact us today. Take advantage of our instant cash offer if you're looking to trade-in!
---
More Posts You'll Like